"It's like a little art piece in real time."
"Like nothing I've ever experienced before."
"Loved the interaction among strangers."
"Different every time and lots of fun."
More feedback »
---
An easy TERP adjacent experience for stay at home
We have a new recording available!  Take a break. No thinking, just doing. Press Play. React.
Play our new experience #11 on youtube: http://youtube.com
-OR-
Link to download file for experience #11: http://drive.google.com
This can be done in any small space, indoors or outdoors, as the movements stay in one place. Ideally listen through headphones for a more personal, TERP-like experience, but a speaker also works.
Breathe and enjoy.
As this is an ongoing project with more experiences in the works, we would love to hear your feedback with a quick, 2-minute survey: https://forms.gle
Playlists of past experiences:
Playlist on youtube experiences 1, 2, 3, 4*, 5, 6, 7, 8*, 9, 10, 11: http://youtube.com
- OR -
Folder to download mp3 files for experiences 1, 2, 3, 4*, 5, 6, 7, 8*, 9, 10, 11: http://drive.google.com
* Indicates that this experience is done seated.
About TERP Stay at Home:
While working at home on our new prototype, we came up with a way to connect. As the current health crisis keeps us from a public release, here is a short, TERP-adjacent movement experience for you to try while in your home. Engage in mindful fun and a healthful distraction. We hope when you carry out these simple instructions, you'll feel more relaxed, energized, and elevated!
---
Featured Experiment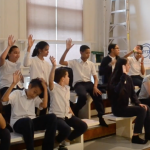 Title: Boost Students doing real-time
Date: Wednesday June 8, 2016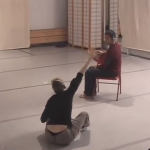 Title: Xmas Party
Date: December 18, 2008
Visit the Terp Lab »